Since her childhood Erena Grigoratou has been practising dance and track.
She studied Tourist Business Administration and holds an MA Master International Business & Management degree (Westminster University of London). In 2002, she moves back to Greece and her first love, physical education. She continues her studies in the field of Fitness & Aerobics (AF Studies, GRAFTS Hellas). Since then she has collaborated with well-known fitness centres and health clubs, also as a Personal Trainer.
In 2005 Yoga becomes part of her life and she finds what she has always been looking for a method that combines exercise with peace of mind, health and spirituality.
In the beginning she was trained in the YogaWorks system, a combination of Ashtanga, Iyengar and Vini Yoga (Anna Zorzou, Malachi Melville). She enriched her knowledge through Anusara Yoga studies (Vivi Letsou, Rusty Wells, John Friend), Satyananda Yoga, Raja Yoga and Meditation (Swami Nirvikalpa), as well as in continuous training programs and seminars in Ashtanga Yoga (Dylan Bernstein), Chakra Yoga, Nada Yoga, Pranayamas techniques ( Swami Nirvikalpa), Kids Yoga (Grenville Henwood), Prenatal Yoga (Sue Elkind) and Prana Flow (Simon Park).
In January 2013 she attended Aerial Yoga training (Tanya Popovic) and Unnata Yoga (Michelle Dortignac – founder of the method). From June 2014 until September 2014, she studied at Shiva Yoga Peeth in Rishikesh, India, next to Swami Sudhir and was trained in Ashtanga and Hatha Yoga (500Hours Yoga Alliance), where she graduated with distinction.
She has collaborated with major fitness centres and health clubs as a Yoga-Aerial Yoga teacher and holistic healer. Now she is a certified Yoga and Aerial Yoga (500Hours Yoga Alliance) tutor, Pilates teacher (mat, props, equipment -300Hours EHFA European Health & Fitness Association), Feng Shui counselor (Feng Shui Research Center), Master Reiki & Master Angelic Reiki Healer, Nutritionist (NHS College) and personal trainer. She is the manager of the educational programs Yoga, Aerial Yoga and Aerial Pilates, at the Athletic College "Studio One".
She frequently travels in India for trainings, and she is a member of the teaching staff, in the field of Yoga, Shiva Yoga (Rishikesh).
Her personal goal is to transfer her knowledge of Yoga, Aerial Yoga and Aerial Acrobatics to her students and also a more holistic approach in the way of thinking and acting in their daily life.
Zafeiroudi Aglaia (Lila) teaches "Kinetic Leisure: Yoga, Pilates, Dance" at the Department of Physical Education and Sport Science at the University of Thessaly, on undergraduate and postgraduate level. She holds a PhD in "Exercise and Quality of Life", MSc in "Human Performance and Health" and BSc in "Physical Education and Sport Sciences".
At the same time, she teaches aerial yoga/dance, hatha, raja and ashtanga yoga, pilates at dance schools, studios and gyms. Designs and implements aerial yoga/dance, pilates, yoga training programs at Lifelong Learning Center at the University of Thessaly. he participates in European research programs and she is an official member and trainer in 11 professional organizations in Greece and abroad.
Her writing work and research papers have been presented at numerous international scientific conferences. She is one of the founding members of the Laboratory "Applied Leisure Sciences: Outdoor, Sports, Arts" at theUniversity of Thessaly and directs aerial dance art projects. She has also participated in over 30 international and national dance and gymnastics performances and her interests/activities include cinema and theater.
Aglaia wishes to everyone "never stop training yourselves… for yourselves, other people, the whole world".
Eva Spyrou, starting from her studies in social work (social worker), soon continued on with her education in the field of Yoga and Inner Philosophy taught by Giannis Andrianatos (rhetoric circle), attending Yoga, Meditation and Rhetoric classes. As a restless spirit and with a constant drive to obtain deep knowledge, she moved to the next chapter with Anna Zorzou and her educational program Yogaworks
She received training in Thai Yoga Massage and Αyurvedic mollification at the Academy of Ancient Greek and Traditional Chinese Medicine. She continued with her studies in programs such as Aerial Kids, Aerial Yoga Beginner and Aerial Yoga Advanced, while at the same time she continues her active participation in other forms of aerial arts like Pole Dance and Aerial Hoop. Last but not least, she has attended educational programs in Gymnastics Training and Handstand with Argiro Kanellopoulou.
The official presentation of her work on Yoga and Partner Yoga Acrobatics, in collaboration with her team, took place at the International Martial Arts Festival, which was part of the 18th Worldwide Martial Arts Conference, conducted at the Olympic Stadium of Galatsi and under the aegis of the Hellenic Ministry of Tourism.
Today she is an active tutor and seminar rapporteur, focusing on
Yoga and Aerial Dance (Hammock Sling).
She teaches at her own space as well as at Aerial Fusion in Maroussi and at the Olympic Flame of Aharnes.
She teaches at her own space as well as at Aerial Fusion in Maroussi and at the Olympic Flame of Aharnes.
"Major part of our inner dynamic, can be expressed and cured through Aerial Dance and movement. It is as if we connect various parts of a puzzle, in order to compose our own self. A composition that leads to the creation of art".
Chrysanthi Solomonidou has studied Science of Psychology at the department of Philosophy – Pedagogy and Psychology of the Philosophical School of the University of Ioannina.
Her love for aerial workout and Yoga led her to further studies on Kids Yoga & Aerial Kids Yoga TT (90H), at the School GARUDA PLAYS & FLIES and on Aerial Yoga TT (60H), at the School AERIALIFE.
Today she collaborates with known studios in Athens: Pada Yoga as a Kids Yoga & Aerial Kids Yoga, Aerial Dance and Aerial Acrobatics instructor, at Pano Skilos as Kids Yoga and Aerial Yoga Instructor but also as a school teacher, aiming at the study, creative activity and management of learning difficulties of Primary and Secondary school students.
She took part in conferences focusing on: "Grief: Therapeutic procedure", "Cognitive therapy of depression", under the aegis of NEW YORK COLLEGE EURO – AMERICAN EDUCATION in Athens, "Childhood & Adolescence issues management" from the Counseling Station of Fight Against Drugs in collaboration with the General Hospital of Ioannina Hatzikosta at Ioannina, as well as the Second Panhellenic Science Conference with the project 'General Hospital, Society and Psychiatry" at Ioannina. As she says: 'My choice to include my educational training in Kids Yoga enriches my pedagogical tools, which bring the result of a creative combination"
Nursery Centre "Protovadismata" (Firststeps)
Protovadismata is a newly built, modern, contemporary and fully equipped nursery center that accommodates infants from 6 months old to preschool children 6 years old. Our educational program is based on empathy, free creativity, on showing respect and trust to our kid and its abilities, on the freedom of movement and expression, on the experiential way of learning and on learning achievements through playing and art. In our beautiful premises children gather and exchange ideas.
A huge inspiration to our educational work is the pedagogy and philosophy of Maria Montessori. Our main goal is to provide high quality services to our students and to their parents. Our basic principle is to create an open space with the active participation of the parents in their children daily life, to provide personalized services and support every child solely and individually.
A central part of our educational work with children is the knowledge we have around kids and childhood but also observation, as a scientific tool and as a method. e observe in order to notice the true interests of a child, we are trained to see the small details that will lead us to the point.We will not see it superficially but we will focus on what really matters. With deep consciousness and sensitivity towards youngsters we correspond to the real needs of their growth.
Iro Akrividi has studied Public Hygiene Health at the University of Western Macedonia.
Her artistic concerns impelled her to the theater where she graduated from the Dramatic Art School of Kalvos - Kalamboki "Athenian Stage".
Her love for the theater was expressed through a holistic approach as it was her way to communicate with others making them to feel good.
From her childhood she has occupied with eurythmics, dance, basket and tennis. After her studies, she decided to devote more time for self-improvement and as she had a special passion for exercise of body as well as of mind, she decided to get familiar with Yoga.
The continuity was dynamic:
During 2011, she was found next to Michalis Filinis, where through her active commitment, she had the opportunity to obtain more essential knowledge about the secrets of Yoga.
In 2012 she discovered the experience of Aerial – she was a pioneer as she was from the first people who was occupied dynamically with Aerial Yoga in Greece.
Next, she continued to get trained not only in many and different kind of Yoga but also, she was reeducated in more dynamic programs as well as dancing lessons. Her teachers are Christina Matsi, Eirena Grigoratou, Tania Saiti, Maria Mpasta, Maria Maganari, George Andrianopoulos and Christina Pantazopoulou.
Today, she is certificated as E-RYT, RCYT, YACEP Yoga Instructor from the International Association of Yoga Alliance.
She teaches Yoga, Yoga Kids, Yoga Prenatal, Nidra Yoga, Aerial Yoga, Aerial Yoga Swings, Aerial Yoga Kids, Αerial Pilates, Pilates Mat, Pilates Reformer and Flexibility.
Her aim is every trainee, through a holistic experience to come closer to his self and simultaneously exceed his limits by changing his life to a better quality.
From 2014 she is the owner of a modern Fitness Studio at Tavros which was named the Concept Tavros. In May 2020 the name of the studio was changed and now it is called Discover My Great Good Place. This place was created with attention to details and in parallel gives promises to open new paths to discover your own goals, your own abilities as well as the best version of yourself. There is no stability as we must adapt daily to new circumstances, this means improvement and development. Iro looks for you to discover these aspects with her!
Specially to discover Aerial training…as she enjoys saying: "it's a pity to stay on the ground, when you can fly!"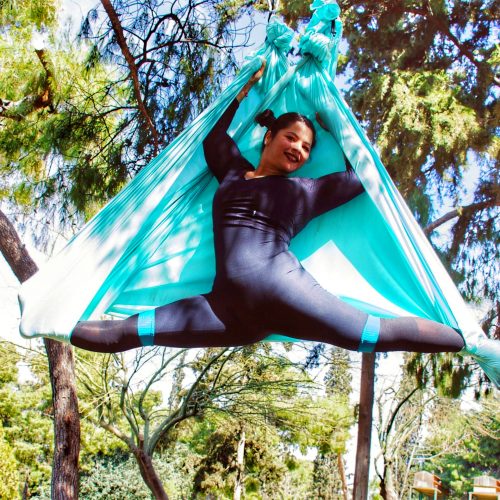 Katerina Pitsalidou started her studies in 2010 at Kapodistrian University of Athens in the department of Physical Education and Athletics from which she graduated in 2013 with two degrees in Dance and Rhythmics.
At the same time, she participated in a variety of seminars and got the certifications in fitness categories that she wanted to progress : Pilates, Pilardio, Fitness Dance, Acro-Yoga, Aerobic etc.
Her love for Aerial Fitness Sports started in 2012, when she began receiving Pole Dancing lessons, a field that she started teaching afterwards till today.
In 2016, she ordered her first Aerial Yoga hammock from the company Salachi, without having any idea about the Aerial Yoga practices. The only thing she could remember is that she dangled her hammock and started learning things from on-line videos. When she realised that she advanced very quickly she decided to take her first certification in Aerial Yoga, in order to teach.
Today, she works as an rhythmic instructor in two Fitness Clubs and also she provides private lessons in her own space.
Emotionally affected by the love that she has for the aerial world, she says "Everyone needs to try flying, at least once in their life".
Anastasia Boutsikaki was born in Athens in 1985.
She has been involved in sports since a very young age and took part in championship in the tennis sport.
At the age of 18 she discovered Yoga as a trainee and after 10 years and the birth of her two children decided to train on her favorite hobby.
She attended the Yoga Academy next to Evelyn Zotou and became a certified Yoga teacher worldwide (E-RYT200) and an Aerial Yoga teacher.
Throughout the year, she teaches Yoga at various venues, conducts workshops with broad thematology on her subject and has a permanent collaboration with the women's magazine "The Body Magazine" of the publishing house Dousis Com.
Maria Maganari has been teaching Aerial Yoga since 2012, almost since its first "appearance" in Greece, inspired and guided by the pioneer Tanya Popovic.
At her schools (Siddhi Yoga Shala/ Pano Skilos) and in the Educational Programs she instructs (AeriaLife The Teacher Training/AeriaLife LevelUp -with her colleague Giannis Karvelis and Garuda Flies- Kids Aerial Yoga), the trainee will find the way to "lift" his/her practice by turning it into a game. As a child -without even considering it a workout- knows how to "fly", roll, conduct acrobatics, so the Aerial Yoga student will experiment and get in touch with his/her inner child.
In the aerial game, there are no winners.
Contact info:
"Kinitro ke Kinisi" is a Special Therapies Centre that aims to produce modern intervention methods for children with neurological and developmental disorders. Since the first months of their life to their adolescence, they design and provide the children with personalized therapeutic programs, so that they are able to function in their daily needs and be active members of our society (International Classification of Functioning, World Health Organization)
Our ambassador from the Special Therapies Centre, Kinitro and Kinisi: Savvas Kellidis
Christina Anagnostou was into sports since a very young age when she started practising gymnastics. She met Yoga during her pre-graduate studies in Fine Art and Sculpture. Her continuous searching for Body and Soul alignment led her to the path of tutoring that inspires Knowledge and Change. Through her education in Yoga and Aerial Yoga, as well as her first experience in teaching, she started the discovery and teaching of self and body love.
Later on she wishes to deepen her knowledge in all body functions and their restoration. Later on, she wishes to deepen her knowledge in all body functions and their restoration. With further educational seminars in Yoga Therapy and Musculoskeletal Malfunctions, she started working at a Physiotherapy centre with main guidance in Yoga and Aerial workout on a Hammock. The practice is adjusted according to the needs of each individual and is considered a holistic therapy.
For her, Yoga is the way that leads us to our true self, to connection with our body, which is in fact our best teacher. After all, tutoring is above all an apprenticeship.
Aggeliki Panagiotopoulou was born and raised in Athens. She is a psychologist with a Master's degree in Mental Health and also a certified CBT therapist for children and adults. Since 2006 she owns her private office "Psychological Support of Children and Adults", where she is working on a psychotherapy basis with both youngsters and grown ups.
She also conducts conferences for Mental Health issues awareness, addressing to parents, teachers and schools. She has participated in the content of scientific books and researches and has also organized educational seminars, focusing on the methods of premature intervention to dispersed developmental disorders.
Along with Christina Matsi, they have established Yoga Hugs Special Kids, where they lead group and individual yoga classes for children with special needs.